Accessing your account and application
You will need to log into your Leeds Homes account in order to access and manage your application.
For further assistance on accessing your account with Leeds Homes click the link below to view a help and guidance video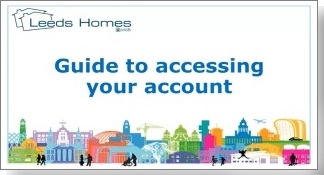 For further assistance for if you forget your account login details click the link below to view a help and guidance video.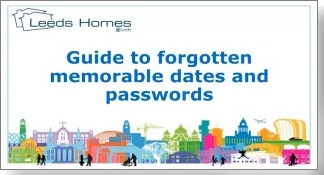 Updating your application
It is essential that the information we hold about your application for housing is up to date.
Please update us with any changes, for example, if you have a new phone number, you have moved address or if you want to add or remove someone from the application.
You can update your application online by logging on and amending the relevant section.
For some changes you will need to provide proofs before the application can be updated. For instance:
The application form will tell you if you need to provide proof of the change and how you can do this.
Advocate consent
If you would like to give your permission for a relative or support worker to be able to bid for homes on your behalf, you can include this in your initial application. If you need to request this once you are already registered, just log in to your account and complete that section.
Annual renewals
We will contact you on the anniversary of your renewal to ask if you want to stay on the housing register and check whether your circumstances have changed or if there's anything you may have forgotten to tell us.
When you receive your email reminder, you will need to log into your application and go through it to check all the information is correct and then resubmit. You can make any necessary changes. If you don't do this within 3 months of us contacting you, your application will be closed and you will have to re-apply.
Housing priority bands
When you register with us we will assess your housing needs. We will look at your medical needs, your housing conditions, whether you are homeless and any other reason that you need to be rehoused. Once your application is registered we notify you of your housing banding or contact you to arrange a more in depth assessment.
Your application will be placed into one of the following bands:
Band A - This band is for households who have an urgent need to move.
Band B - This band is for households who have a moderately urgent need to move.
Band C - This band is for all other households including those with a low or no housing need.
Band D - This band is for all other households including home owners, and households who have no connection to Leeds or are ineligible to be rehoused by the council.
To view the council's lettings policy (including information on bands) see: http://www.leeds.gov.uk/residents/Pages/Looking-for-a-home.aspx
Band A and Band B priority bandings are awarded for 180 days. We will contact you to let you know when your priority is due to expire by email or letter. You can request that your priority is extended details of which will be provided in the communication. All extension requests are considered on an individual basis.
If at a later stage you would like to request a re-assessment of your housing need, you can log in to your account and update your application with the relevant information. You will then be contacted to discuss your circumstances.
If you disagree with a decision about your housing you are entitled to request a review. This is carried out by an independent officer.
To request a review, write to the review panel at:
City Centre Hub
Merrion House
110 Merrion Centre
LS2 8BB
You can also e-mail: reviewpanel@leeds.gov.uk
Please include your full name and login number and a contact phone number.